What is the difference between porcelain stoneware and other types of stoneware?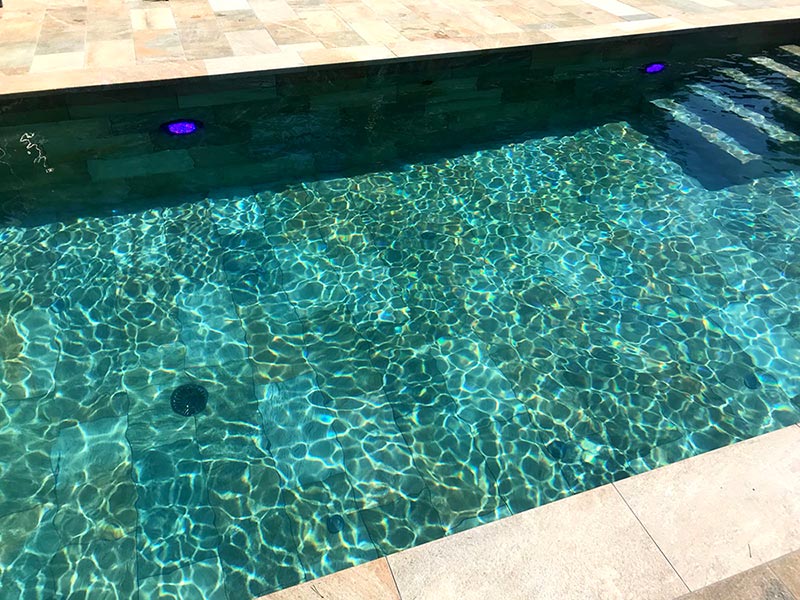 There are important differences between porcelain stoneware and other non-porcelain types of stoneware. This post will help you understand the difference.
The difference lies in the water absorption capacity
Porcelain stoneware is known for having a lower water absorption capacity. This makes its resistance to humidity notably higher. That is why it's so highly recommended for building pools and water areas, such as Wellness & Spa centres.
To get to the heart of the matter and provide you with all necessary information, we've spoken to our expert lab technician, Daniel Fernández. This is what he told us:
What's the basis for stoneware manufacturing regulations?
The international regulations for manufacturing ceramic tiles, ISO 13006, EN 14411, among others, classify tiles according to two parameters: manufacturing method and water absorption. By combining these two values we obtain ten different types of products. You can see them in the following grid:

What is the water absorption % of porcelain stoneware?
For a tile to be considered porcelain stoneware it must have a water absorption equal to or lower than 0.5% (groups AIa or BIa). Other types of stoneware can have water absorption percentages of up to 6% (groups AIb, BIb, AIIa, BIIa).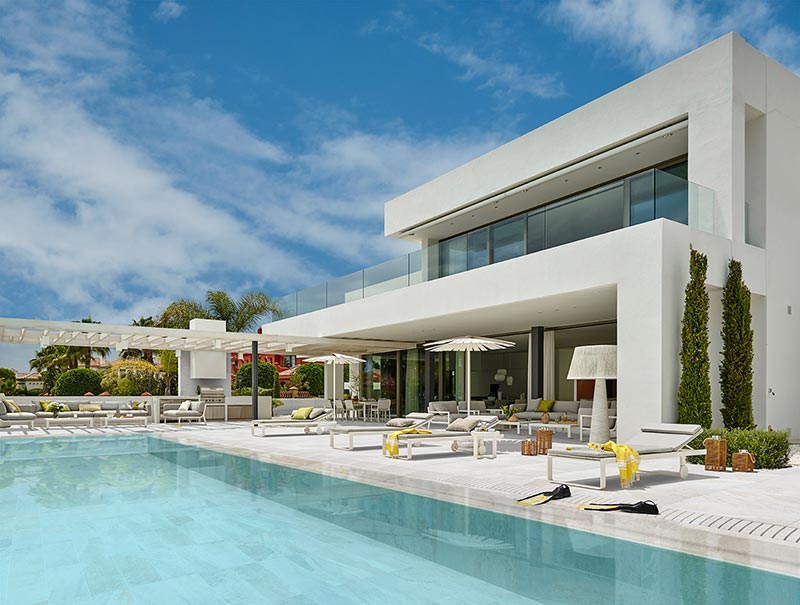 Why does it have such a low water absorption?
Porcelain stoneware is made with a ceramic mixture enriched with fundents: feldspar. This helps the material reach a liquid state when firing it. In this way, most of the existing pores end up covered. This diminishes the tile's water absorption and optimises other qualities such as resistance to frost, chemical attacks and stains.
It also leads to the creation of extremely hard crystalline phases that improve its abrasion resistance and breaking strength.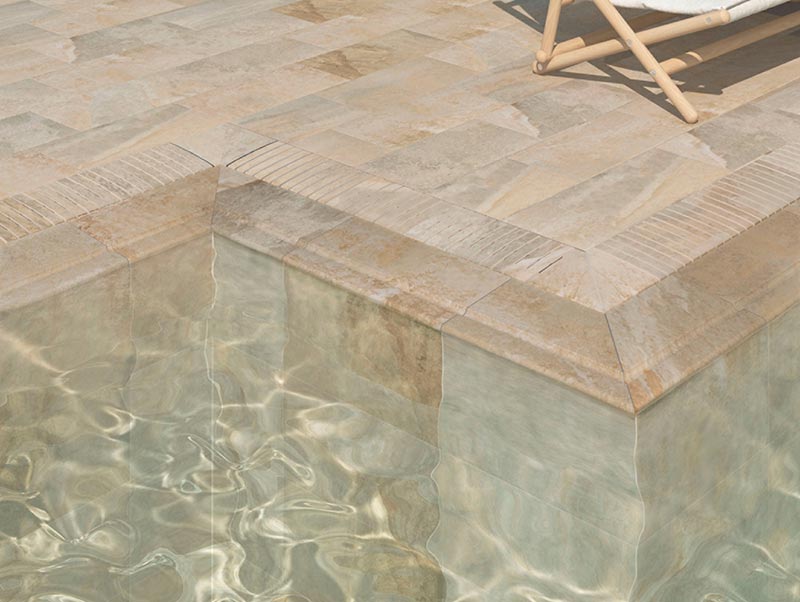 Look at the label
Now we now what characterises porcelain stoneware. To identify it, all we have to do it look at the label on the box. Porcelain stoneware will always be classified as either group AIa or group BIa.
We hope to have helped you. Thank you for being here!
See in detail Rosa Gres porcelain stoneware shown on this post:
Quickview

Flooring and Pools

Formats and Finishes

31 x 62,6 x 0,9 Anti-slip
48 x 97,9 x 1 Anti-slip

More Colors Pietro

 

[sf_button colour="black" type="bordered" size="standard" link="https://rosagres.com/collections/en/pietro/" target="_self" icon="" dropshadow="no" rounded="no" extraclass="boton-producto"]See Collection Pietro[/sf_button] [sf_button colour="black" type="bordered" size="standard" link="https://rosagres.com/upload/documentos/catalogos/catalogo-rosa-gres-STELA-PIETRO.pdf" target="_blank" icon="" dropshadow="no" rounded="no" extraclass="boton-producto"]Download Catalogue[/sf_button] [sf_button colour="black" type="bordered" size="standard" link=" https://rosagres.com/en/find-your-dealer/" target="_self" icon="" dropshadow="no" rounded="no" extraclass="boton-producto"] Find distributor[/sf_button]

Quickview

Flooring and Pools

Formats and Finishes

31 x 62,6 x 0,9 Anti-slip
48 x 97,9 x 1 Anti-slip

More Colors Pietro

[sf_button colour="black" type="bordered" size="standard" link="https://rosagres.com/collections/en/pietro/" target="_self" icon="" dropshadow="no" rounded="no" extraclass="boton-producto"]See Collection Pietro[/sf_button] [sf_button colour="black" type="bordered" size="standard" link="https://rosagres.com/upload/documentos/catalogos/catalogo-rosa-gres-STELA-PIETRO.pdf" target="_blank" icon="" dropshadow="no" rounded="no" extraclass="boton-producto"]Download Catalogue[/sf_button] [sf_button colour="black" type="bordered" size="standard" link=" https://rosagres.com/en/find-your-dealer/" target="_self" icon="" dropshadow="no" rounded="no" extraclass="boton-producto"] Find distributor[/sf_button]

Quickview

Flooring and Pools

Formats and Finishes

31 x 62,6 x 0,9 Anti-slip

More Colors Serena

   

[sf_button colour="black" type="bordered" size="standard" link="https://rosagres.com/en/collections/serena/" target="_self" icon="" dropshadow="no" rounded="no" extraclass="boton-producto"]See Collection Serena[/sf_button] [sf_button colour="black" type="bordered" size="standard" link="https://rosagres.com/upload/documentos/catalogos/catalogo-rosa-gres-SERENA.pdf" target="_blank" icon="" dropshadow="no" rounded="no" extraclass="boton-producto"]Download Catalogue[/sf_button] [sf_button colour="black" type="bordered" size="standard" link=" https://rosagres.com/en/find-your-dealer/" target="_self" icon="" dropshadow="no" rounded="no" extraclass="boton-producto"] Find distributor[/sf_button]