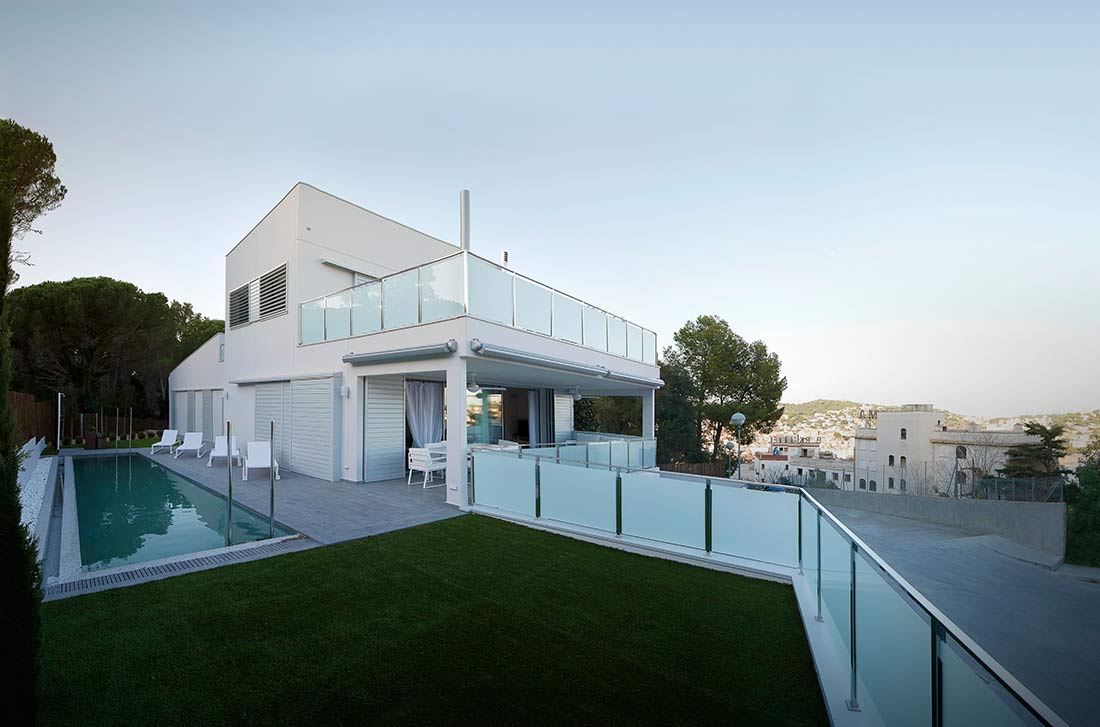 CASE STUDY
PROJECT
BUILDING A "PRÊT A PORTER" HOME
LOCATION
Sant Feliu de Guixols
ARCHITECT / BUILDER
CASES PRÊT A PORTER
TYPE OF BUILDING
A prefabricated house with two floors, and indoors and outdoors covered with ceramic wood.
CONSTRUCTION CONCEPT
Two main ideas stand out: the innovation of a prefabricated home with a high level of quality, and the esthetic coordination, obtained mainly thanks to unifying the color of the house's indoor and outdoor paving.
WHAT HAS ROSA GRES CONTRIBUTED
Rosa Gres ceramic wood was chosen for the terraces, pool, ramps, indoor and outdoor stairs, bathrooms, kitchen and spaces of the whole house, thanks to the large variety of solutions and pieces it offers.
COLORS AND COLLECTIONS
Only one color has been used for all the elements: color smoke from the lovely collection.
RESULT
The gray tones with a slightly stripped treatment of the color smoke combine very well with the white that is predominant on walls and facades. The global esthetic effect is warm and avant-garde, minimalist and highly comfortable. In day-to-day life, the comfort and cleanliness provided by lovely's smoke ceramic wood is truly remarkable.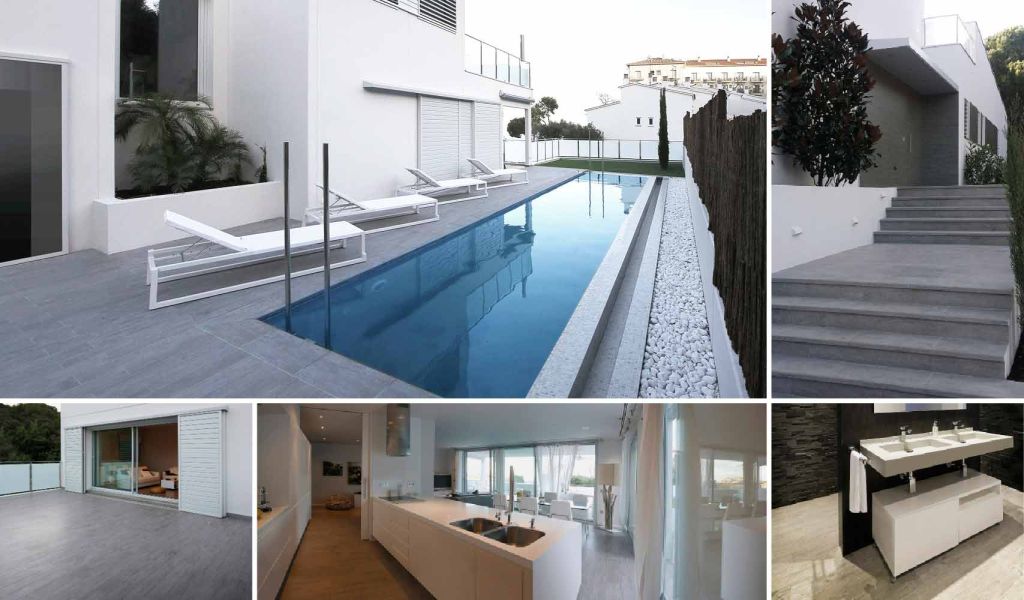 VALUES OF ROSA GRES CERAMIC WOOD
> Natural and highly realist textures. Rosa Gres digital printing technology enables us to create highly personalized product designs with a high graphic precision. Rosa Gres ceramic wood has great naturalism and is fabricated in a range of seven colors.
> One color and two finishes: smooth and anti-slip. The two finishes offered by color smoke help potentiate the house's concept of esthetical unity. The anti-slip finishes are indispensable both outdoors and in humid areas because they raise the overall safety. All Rosa Gres anti-slip products are pleasant to touch and very easy to clean.
> Perfectly integrated stairs. The color smoke has steps with widths of 120 cm, 62 cm and 31 cm, all with an anti-slip finish. In this St Feliu home, 62-cm-wide steps have been used for the indoor and outdoor stairs. The Rosa Gres ceramic wood steps are pieces with a highly elaborate design; the streaks, for instance, maintain their continuity throughout the treads and risers of the steps in a very natural way.
> Color smoke pool coordinated with the terrace. Rosa Gres is an expert brand in the creation of solutions and exclusive materials for building pools. In the St Feliu project, color smoke has been used to cover the beach and the edge of the pools. Visually, the result hits the targets; the layer of water integrates into the space in a suggestive and elegant manner.
> Great resistance. The Rosa Gres ceramic wood is high quality porcelain stoneware and it offers all its advantages: it doesn't alter with the passage of time, it doesn't stain and it requires a minimum amount of maintenance.
MORE INFORMATION
– Download the LOVELY catalogue here.