All you need to know about overflow pools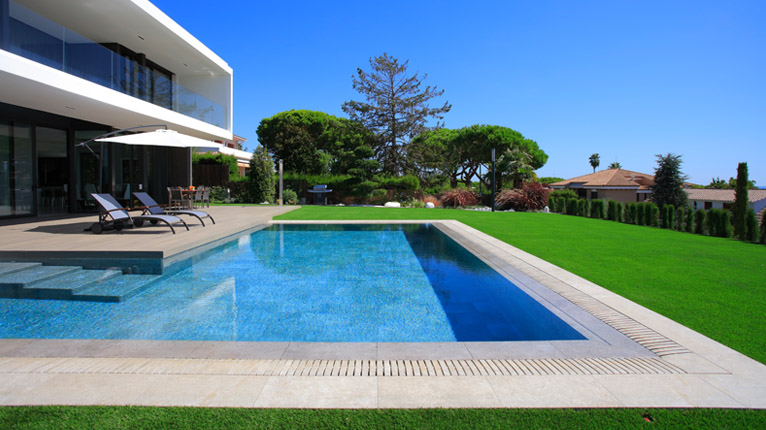 Have you ever been stunned by the wonderful image of a pool with a lake effect? You feel like diving in, approaching it, touching the water, contemplating it. They are spectacular pools and they produce a great sense of wellness and relax. Today we will tell you all their secrets and advantages.
How the lake effect is achieved
To create this beautiful effect, the water must spill over the whole perimeter of the pool. We can do this by installing a filter channel that skirts the whole pool and that constantly collects water. If you look closely, you will see water always spills over an edge that has a slight inclination. We cover the filter channel with our ceramic grids. The grids can be exactly the same color as the edge in order to obtain 100% esthetic coordination.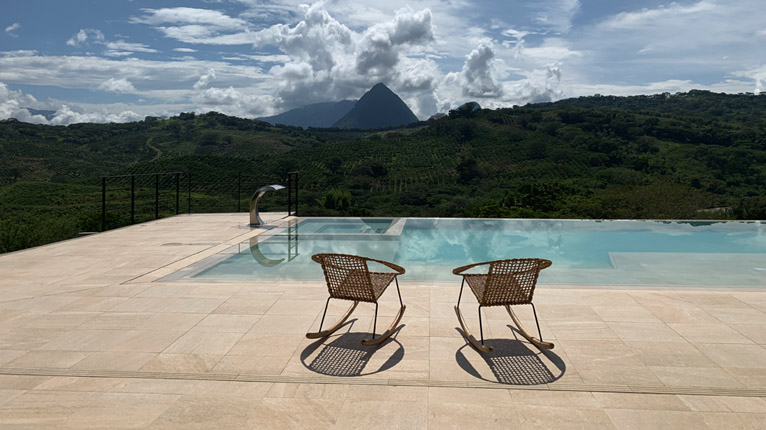 Can I build an overflow pool at home?
You can find overflow pools in hotels and sports centers or spas. This happens because they are the safest and most hygienic type of pool there is. But thanks to our experience in hotels, Olympic pools and sports centers, at Rosa Gres we count with all the necessary elements in order for you to also be able to build a porcelain stoneware overflow pool in your own home in a quick and simple manner. One of our keys at Rosa Gres is the System 9: an overflow system we created and patented that streamlines the construction process of private pools. The System 9 is especially efficient when building pools with irregular shapes, such as the one in the photograph.
The water is always crystal-clear
Overflow pools constantly and completely renew the water in a short period of time. This helps keep the water clean, transparent and free of impurities. Have you noticed how they always look perfect?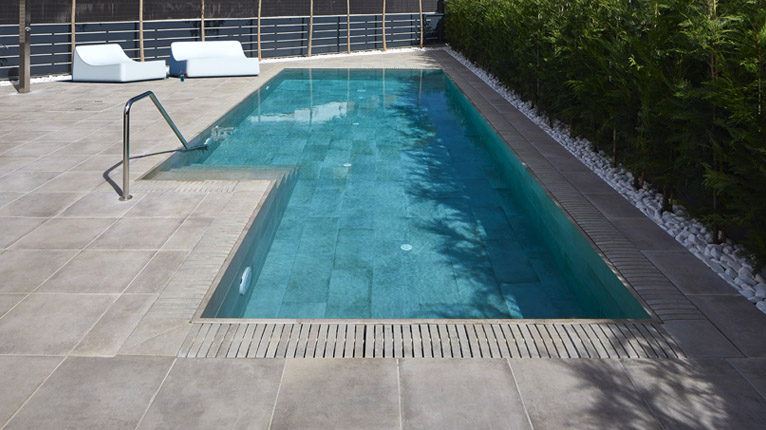 Safer and more beautiful
It's as if you had a lake in your garden. You will always be able to see 100% of the sheet of water from all angles. And thanks to there being no blind spots, you will have a greater visual control of the space and, therefore, a higher level of safety. Think about how important this is for your family.
You will enjoy it for a long time
Lying beside the overflow pool to cool down, checking the temperature before diving in, or simply sitting on the edge to relax… It has been proved that overflow pools are more enjoyable because they are very comfortable. And our porcelain stoneware feels very soft and pleasant against the skin.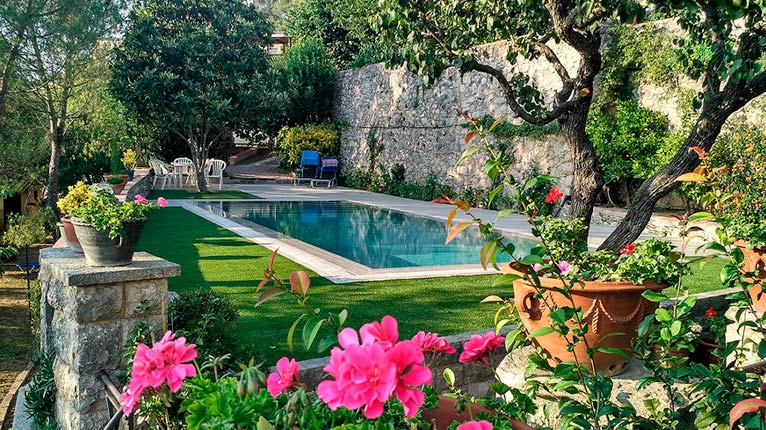 Overflow pools are the quietest
Because the water smoothly and continuously spills over the edges, you won't have to hear the sound of the water lapping against the walls. As you know, the quieter, the more relaxing it is. It's fantastic.
With porcelain stoneware, you can create your own style
One of the biggest advantages of Rosa Gres porcelain stoneware is the wide variety of colors and textures it offers. All count with a high level of design. Get inspired by our collections and find your own style: urban, Provencal, Mediterranean, minimalist, black, white, ochre, wood… you choose.
And it lasts a lifetime
Porcelain stoneware is the waterproof material that best withstands sudden changes of temperature – it doesn't spoil, it doesn't alter, it doesn't stain. It is the best choice for covering overflow pools. All you will have to do it enjoy it.
Porcelain stoneware overflow pools are a great solution. And porcelain stoneware is a material that offers many possibilities. At Rosa Gres we tend to find many people who are surprised by its various uses and benefits.  For example, did you know porcelain stoneware is a sustainable material? Find out more in our post on sustainability.
Thank you for being here.